7/6/23

JULY IS UV (ULTRAVIOLET) AWARENESS MONTH – aka SUN SAFETY
Even though life on Earth would not be possible without our beautiful sun, getting too much of its ultraviolet rays can be dangerous. NASA tells us that the sun is a star that is 4.5 billion years old! It is made up of gases and at its core, the temperature can reach 27 million degrees Fahrenheit!! (Ref: https://solarsystem.nasa.gov) Check out the links below for some more really interesting facts about the center of our solar system and how to protect you and your loved ones from getting too much of a good thing. Be sure to scroll all the way to the end of the links for extra helpful tips! https://nationaltoday.com https://www.healthychildren.org
And don't forget:
Apply sunscreen ½ hour before sun exposure
Reapply sunscreen every 2 hours and after swimming (it wears off)
Wear hats, SPF clothing and proper sunglasses
Make sure sunglasses protect against 100% of UVA and UVB rays
Avoid the sun as much as possible when it is at it's strongest, 10 am-4 pm
Sunscreen lotion is more effective than the spray
Stay hydrated
Be aware of medications that are more sensitive to the sun
Call the doctor if you see blisters, severe pain or fever.
We are happy to answer any other questions you may have as we want your summer to be SUNsational! Please check out the "Patient Education" tab on our website to find very helpful information about other summertime safety tips like how to handle ticks and insect bites as well as navigate water safely.
2/23/23
Hello P.A.W. Families,

We write with some exciting news about our Medfield office: We are going to overhaul the Medfield office and welcome a new doctor.
On March 13 we will begin construction on our new and improved office. We will beautify the space, add a "treatment room", and change the layout of all the exam rooms to improve your - and our - experience. We expect this to take three months. For safety and efficiency during this time we must close the Medfield office. As of March 9, all appointments will be in our Weston office at 134 South Ave., Weston. Drs. Blumenthal, Raftery and Gerios will see both well visits and sick appointments in Weston. With few exceptions, all previously scheduled appointments will be honored in Weston and we will reach out if any change is required and to confirm the change in location. We appreciate the significant inconvenience this causes you, yet believe the end result will be well worth it. While the construction is happening in Medfield, the Weston office and parking area will be noticeably busier. To help facilitate the flow, please arrive to your appointment on time, do the e-check-in on Gateway, and assigned questionnaires in advance.
We are also very excited to welcome Dr. Ashley Farrington to our team. Dr. Farrington will primarily see patients in our Medfield office. (in Weston during the construction period) Dr. Farrington grew up locally and is a graduate of the University of Notre Dame and University of Massachusetts Medical School, where she also completed her pediatric residency. She has practiced primary care pediatrics for seven years in both health centers and private practice. She is the mother of a one-year old son and with whatever time is left she likes to read and spend time with her family.
This is all very exciting! We greatly value you and your family and the trust you put in us. With hopes for good health and thanks,
The Doctors and Staff of Pediatric Associates
9/29/22
We are still able to offer both the Pfizer and Moderna COVID-19 primary vaccinations for our patients younger than 12- please call for appointments.
If you have an appointment for a COVID vaccine, we can give your child a flu shot at the same time, however we can't give COVID vaccines at our flu clinics or nurse appointments. Please contact the office if you have any questions.
The updated (BIVALANT) COVID-19 boosters from Pfizer-BioNTech for people ages 12 years and older and from Moderna for people ages 18 years and older-has been approved. Though all of our doctors highly recommend that eligible patients get these boosters, we don't have the staffing ability to be able to arrange Booster Vaccination clinics. For appointments at various pharmacies across the country, please go to: Vaccines.gov. Updated COVID-19 boosters add Omicron BA.4 and BA.5 spike protein components to the current vaccine composition, giving more protection than previous vaccination by targeting these variants that are more transmissible and immune-evading.

For more information about vaccination guidelines- we continue to use the CDC website as our resource. https://www.cdc.gov/coronavirus/2019-ncov/vaccines/stay-up-to-date.html.
To summarize the current guidelines:
Children ages 6 months through 4 years should get all COVID-19 primary series doses.
Children ages 5 years and older should get all primary series doses, and the booster dose recommended for them by CDC, if eligible.
Children ages 5 years to 11 years are currently recommended to get the original (monovalent) booster (THIS MAY CHANGE SOON- as Pfizer and Moderna are seeking approval for the Bivalant booster for this age group).
People ages 12 years and older are recommended to receive one updated Pfizer or Moderna (bivalent) booster
9/12/22
FLU CLINICS IN MEDFIELD AND WESTON
It's that time of year again! The doctors at PAW recommend that all children 6 months of age and up get their annual flu vaccine.
Flu clinics at PAW begin the week of 9/19/22. If your child has an upcoming well visit- they may receive the flu vaccine at their visit.
FLU CLINICS ARE BY APPOINTMENT ONLY- As follows:
MEDFIELD
Tuesday-Friday during office hours
Saturday 11/5/22 Flu clinic 9AM-1PM
----------------------------------------------------------------------------------------------------------------------------
WESTON
Tuesdays 3-5PM
Thursdays 4-6PM
Fridays 9-12PM
Monday 10/10/22 - 9AM-1PM
Sunday 10/30/22 - 8:30AM-11:30AM
Sunday 11/13/22 - 8:30AM-11:30AM
-----------------------------------------------------------------------------
7/13/22
In addition to the Pfizer Covid vaccine, we now have the two-dose Moderna COVID-19 vaccine series (25ug) which is recommended for children ages 6 months - 5 years (under the EUA issued by FDA) given 28 days apart. In addition, we do have pfizer boosters available for the 5-12 years age group. Please call the office if you are interested in vaccinating your child.
6/22/22
We are happy to report that we can now start offering the COVID vaccine to our eligible patients between the ages of 6 months to 4 years.
At this time the state has provided us with the Pfizer-BioNtech vaccine.
A three-dose series (3ug each) is recommended with, 21 days between dose 1 and 2 and at least 8 weeks between dose 2 and 3.
This vaccine may be given along with other vaccinations at an upcomming well visit, or separately through one of our scheduled clinics/ nurses visits.
If you are interested in having your child vaccinated at PAW, please send a message on gateway through "request an appointment". you will receive a call from our front staff to schedule.
For more detailed information about the vaccine- please visit the CDC.gov or AAP.org Website.
We hope to also be able to offer the Moderna vaccine in the near future (based on state allocation)- and will send a follow up message when that becomes available.
6/20/22
By now, many of you have heard the news:
On June 18, 2022, ACIP voted unanimously to recommend the Moderna and Pfizer COVID-19 vaccines for young children. A short time later, CDC Director Rochelle Walensky endorsed the recommendation as following:
A two-dose Moderna COVID-19 vaccine series (25ug) is recommended for children ages 6 months – 5 years, under the EUA issued by FDA, 28 days apart.
OR
A three-dose Pfizer-BioNTech COVID-19 vaccine series (3ug each) is recommended for children ages 6 month – 4 years, under the EUA issued by FDA, 21 days between dose 1 and 2 and at least 8 weeks between dose 2 and 3.
Your doctors at PAW are in the process of arranging clinics and preparing to give these vaccinations at well visits. We are hoping to vaccinate all of our interested patients ASAP.

We will send out a blast via Gateway and have more details available on our website as soon as we can,
Thank you for your patience,
Meanwhile- for more information about these vaccinations:
Please visit the CDC website.
https://www.cdc.gov/coronavirus/2019-ncov/vaccines/vaccines-children-teens.html,
5/5/2022
Today the office will be closing at 4PM as we say farewell to Dr. Andreea Cazacu. It has been a great 15 years and we are sad to see her go!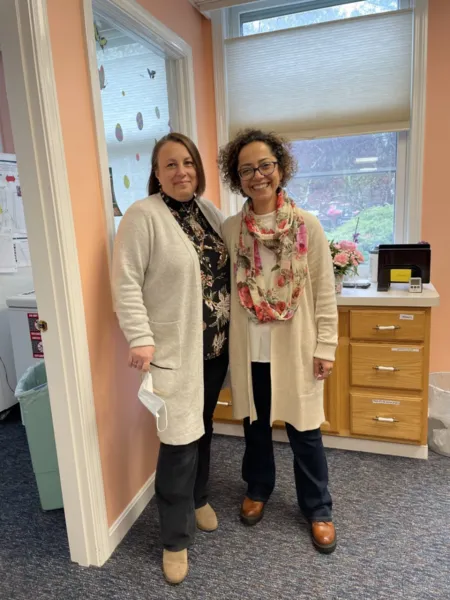 Dr. Andreea welcoming Dr. Abir in the Medfield office
4/27/2022
We are having an outdoor gathering in the Medfield office parking lot for Dr. Cazacu's patients on Wednesday, May 4 from 3-4:30 to bid her farewell. Dr. Abir Gerios-Azar (the new doctor that will be joining us in Medfield) will also be there to meet you all.
If you can't make the gathering and you are interested in a more personal meeting with Dr.Gerios-Azar you may call the front desk to book a virtual appointment with her.
Hope to see you all there!
Your team at Pediatric Associates of Wellesley.

3/9/2022
By now you should have received the news that Dr. Andreea Cazacu will be leaving Pediatric Associates of Wellesley in early May, 2022 to spend time with her aging parents. Of course, we are very sad to see her go and wish her all happiness.
We are thrilled to welcome Dr. Abir Gerios-Azar, an experienced and kind physician, who will care for Dr. Cazacu's patients. We will have "open houses" in April so you can meet her before you may need her and you can make an appointment for a more intimate "meet and greet." If you already have an appointment with Dr. Cazacu scheduled after May 9, we will move that appointment to Dr. Gerios-Azar and call you to confirm this move. If you would like to change your primary care provider to another doctor in our practice, please call our office and ask for Alyane Tilton, our Assistant Office Manager, who can assist with this. In our Medfield Office, Dr. Gerios-Azar and Dr. Raftery are accepting patients. In our Weston Office (for those who live in between), Drs. Curran, Landis, Yankelev and Zackin are accepting patients. She has been an important member of P.A.W. and she will be greatly missed. We appreciate that our loss is small compared to yours as you lose a caring, thorough and thoughtful partner in the care of your children. Her difficult choice to seize these important years and care for her own family is characteristic of the kind and warm person that we have been privileged to work with these many years.
Please know that we hope to continue to deliver the excellent care you have received from Dr. Cazacu. All of our doctors in both our offices are accepting patients, except Dr. Blumenthal whose practice is temporarily closed (as he becomes the Interim Chair of Pediatrics Department at Newton-Wellesley Hospital!). We are also thrilled to announce a new member of our team who will step into Dr. Cazacu's place in our Medfield office, Dr. Abir Gerios-Azar.
Dr. Gerios-Azar was graduated from the American University of Beirut, Lebanon, and completed her medical education at its medical school. After completion of her pediatric residency there in 2001, she continued her education in the US and completed a second pediatric residency at SUNY and a pediatric gastroenterology fellowship at the Cleveland Clinic Foundation in Cleveland, OH (2004). Since then, she practiced primary care pediatrics in both the United States and Lebanon. Dr. Gerios-Azar is fluent in English, Arabic and French and when not caring for patients she enjoys nature, long walks, crafting and cooking. We are equally excited to welcome her husband and two school-aged children to our family.
Dr. Abir Gerios Azar
We appreciate that change is hard and that Dr. Cazacu has been an important part of your family's life. We will work hard to fill that void and deliver the best pediatric care available. Plans for a celebration for Dr. Cazacu are underway and any letters or well-wishes can be sent to our Medfield office.
With great thanks to Dr. Cazacu for her friendship, reliability and dedication and to you for your trust in us,
The Staff and Doctors of Pediatric Associates of Wellesley